Parafilm® Grafting Tape .5'' x 90' - One Roll

1/2" x 90' x .002m clear - each

Parafilm® Grafting Tape is an economical, fast and easy-to-use product that makes plant grafting and budding efforts a breeze for nursery workers, landscapers and gardeners. Apply the tape over the usual grafting rubber or tape normally used to hold the union secure until the graft takes hold. And, it may be enough alone to hold the scion of some soft-stemmed species in place.
Price: $3.55
Parafilm® Grafting Tape .5'' x 90' - Box of 12 Rolls
Parafilm® Grafting Tape .5'' x 90' - Box of 12 Rolls
Price: $35.50
Parafilm® Grafting Tape 1'' x 90' - One Roll

OUT OF STOCK, BACKORDERED, PRICE SUBJECT TO CHANGE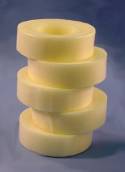 1" x 90' x .002m clear - each

Parafilm® Grafting Tape is an economical, fast and easy-to-use product that makes plant grafting and budding efforts a breeze for nursery workers, landscapers and gardeners. Apply the tape over the usual grafting rubber or tape normally used to hold the union secure until the graft takes hold. And, it may be enough alone to hold the scion of some soft-stemmed species in place.

OUT OF STOCK, BACKORDERED, PRICE SUBJECT TO CHANGE
Price: $7.10
Parafilm® Grafting Tape 1'' x 90' - Box of 6 Rolls

OUT OF STOCK, BACKORDERED, PRICE SUBJECT TO CHANGE
Parafilm® Grafting Tape 1'' x 90' - Box of 6 Rolls

OUT OF STOCK, BACKORDERED, PRICE SUBJECT TO CHANGE
Price: $35.50
Chip Budding Tape 1/2" x 800' x .002m clear, non-sticky - one roll
Chip Budding Tape 1/2" x 800' x .002m clear, non-sticky - one roll
Price: $3.35
Chip Budding Tape 1" x 800' x .002m clear, non-sticky - one roll
Chip Budding Tape 1" x 800' x .002m clear, non-sticky - one roll
Price: $6.70
Budding & Grafting Tape .5" x 300' x .004, non sticky - one roll
Budding & Grafting Tape .5" x 300' x .004, non sticky - one roll
Price: $2.10
Budding & Grafting Tape 1" x 300' x .004, non sticky - one roll
Budding & Grafting Tape 1" x 300' x .004, non sticky - one roll
Price: $4.20